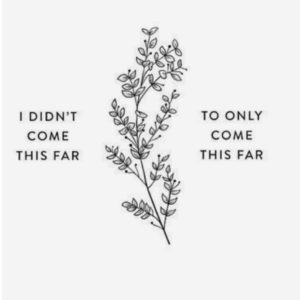 I love to travel. There is true excitement in being in a different place and experiencing something for the first time. Taking my son to visit colleges in North Carolina, Colorado, and New Orleans has been an adventure. However, as you know, airplane travel is not always seamless and there seem to be more delays than I can remember in my lifetime. I extended my trip to Florida over break in February and stayed on to do some speaking engagements in Boca. It was great to get that warm weather for the extra week, but the flight home was an experience I will not soon forget. Talk about a challenge for my mindfulness practice!
I was lucky enough to have my friend, Vicky as a travel companion for this usually quick and easy trip from West Palm Beach to Westchester. I had an awful cold, coughing and sneezing all over the place. I told myself the day before, it's a 2 and1/2 hour flight- you can do this! Little did I know what was in store for me.
We took off for the airport in my friends convertible rental car in the warm sun feeling like Thelma and Louise off on an adventure. We picked up dinner from my new discovery, Bolay, a make your own healthy bowl place. We breezed through security, except for the gun powder they detected on my friends granola. That should have been some sort of strange sign of things to come. We got to the gate and our 5:45pm departure was delayed 20 minutes. Ok, no big deal. We boarded the plane, but before take off they informed us of a missing part that would have to be driven in from Ft. Lauderdale. They claimed it would be 30 minutes, but anyone who knows geography in Florida and rush hour traffic would have guessed that estimate may not be true. We deplaned, and then boarded again 3 hours later. By now it was around 10:00 and landing was estimated at 1:00 am. Ok, very frustrating, but at least we were out on our way. During the 3 hour delay, we had a drink at the bar, ate our Bolay bowls, commiserated with other passengers and the time flew by. I wasn't going to let this get to me. There was nothing I could do and getting upset would just make it worse. Oh, and my cold was still in full force. Oh well.
So we started taxiing on the runway and were next to take off when the pilot announced a maintenance light went off and we would be taxiing back to the gate and have it inspected before we took off. No big deal, should be quick. Ok. One more glitch. At least we didn't have to deplane again. Better safe than sorry, especially when flying. We got the news that the mechanical issue was fixed but guess what, the pilot and crew timed out. We were now getting off the plane again. Are you kidding me? This was getting ridiculous. We were told not to worry, that pilots were going to drive from Orlando and we now had a 3:30 am departure time. Is the airport even open then? They couldn't put us in hotels because there was a PGA tournament and all hotels in the area were filled. I didn't want to Uber back to Boca and start again tomorrow morning, so we decided to stick it out. I took a Benadryl Allergy to sleep on a couch, since my cold was in full force. Paul, the nice and patient agent, agreed to wake up Vicky and I so we didn't miss the plane (although another agent said she couldn't wake us because someone had a heart attack when woken up in the past and it was now a rule.) Really? Ok. Goodnight. Luckily, I travel with a travel pillow and wrap that I used as a blanket. Again, nothing we could do. It was an experience to say the least.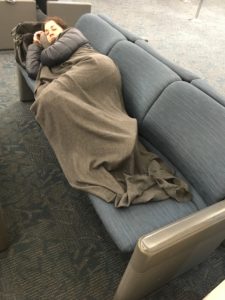 Around 2 am we were woken up and told to come to the flight desk. What now- I finally fell half asleep? We were given the news that the pilots were never coming. They lied? Seriously? Would we ever get home? Infuriating, but what could we do? These agents were just the messenger. They offered us a $300 voucher and an apology. The new departure time was 10am the next day. We re-booked on a flight to Newark at 6:00am and they provided a Lyft for each of us to go home. I'll take it. Back to sleep. Not so fast. A Segway cop rolled in and told us they were closing the concourse and we had to go sleep outside of security and come back through the next morning. This is when I had enough. I crossed my arms and told the cop, "I am not going anywhere," like a petulant child. My friend shot me a look and the cop asked me, "WHAT DID YOU SAY"? I wasn't in the mood to be detained any more than I needed to be, so we quietly left to find more couches, outside of security.
Luckily there was one spot where we could rest. There was only one glitch. An dinosaur exhibit was right next to us and every time someone walked by, a sensor went off and the dinosaurs roared loudly. I am telling you, you can't make this shit up. I put in my headphones and tried to go back to sleep. At 5:15 I awoke to no one from the plane around except my sleeping friend. I guess we didn't have the kind of bonding like the plane from "Come From Away". No one woke us up. (I guess my alarm would have been helpful, but I wasn't optimist that I would sleep.) OH NO, the plane departs at six. How is there a long security line at 5 in the morning????? Don't panic, we will be make it. We finally got through (after my friend was stopped again for gun powder granola) and walked right onto the plane with barely enough time to pee. I was still half asleep, but managed to watch the beginning of A Star is Born. I remember "Shallow", and then nodded off, and when I woke up, Jackson was already dead. Thank God it was a quick flight. Our luggage came out fast, but then all the passengers had to give our information so they could call a Lyft for each of us. More waiting and an angry mob of passengers. My car finally came and I made it home. I arrived from my 5:45pm flight Saturday at 11:00 am on Sunday. What an ordeal. Miraculously my cold was pretty much gone. I think the experience shocked it out of me.
In retrospect, although this scenario was less than ideal, experiences are what make life rich. Not everything goes smoothly. Learning how to deal with things out of your control is the key to lowering your stress and living a more content life. I could have gotten really fired up about this, but who would be suffering? I would be miserable, and it wouldn't change a thing. Traveling is usually something that is out of our control and can be a trigger for us, just like traffic. Although sleeping on a couch at the airport with dinosaurs is never fun, the usual travel delays just give us more time to take a step out of the busyness of our lives, relax, watch movies, read books, sleep and people watch. Reality is all your perception, so if you look at a delay as more time to decompress, instead of an annoying inconvenience, you may just arrive refreshed and maybe even have a good story to tell.