Helping women improve relationships, overcome challenges and embrace opportunities, so they can truly enjoy and appreciate life.
Welcome to my website! I am a psychotherapist and coach specializing in helping individuals navigate life's challenges, including stress, anxiety, depression, relationships, grief, and mid-life transitions so you can live with more joy, peace, and fulfillment.
I believe you have a choice in how you think, which informs your decisions and behaviors. A new perspective and different understanding can be life-changing. My goal is to provide a safe, supportive environment where you can explore your thoughts, feelings, and behaviors in a non-judgmental way to break through the obstacles and move forward.
Are you feeling overwhelmed by stress, anxiety, or depression? Do you find it hard to cope with the challenges of everyday life?
I am here to help you work through these feelings and develop the skills and strategies you need to manage them. Together, we can explore the root causes of your stress and anxiety and identify ways to reduce or manage them. We can also work on developing coping strategies and a healthy mindset to help you deal with difficult situations and emotions.
If you are struggling with relationships, whether it's with your partner, family, or friends, I can help broaden your perspective to get to the core of the issues, and approach situations in a different way, which can be transformative. I can also help you heal and cope with grief and loss.
In addition, I specialize in working with individuals who are going through mid-life transitions. Whether it's a career change, a relationship change, a divorce, or a change in identity, I can help you navigate this challenging time, emerge stronger, more self-aware, and find purpose and fulfillment.
As a psychotherapist and coach, I believe that every individual is unique, and I tailor my approach to fit your specific needs and goals. I use a variety of evidence-based techniques, including cognitive-behavioral therapy (CBT), mindfulness-based stress reduction (MBSR), and solution-focused brief therapy (SFBT).
I understand that seeking help can be daunting, but I want to reassure you that it is a brave and courageous step. If you are ready to take that step, I am here to support you on your journey toward a happier, healthier life. I know that finding the right therapist can be difficult, so I offer a 30 free consultation to see if we are a good fit, and offer different options based on your individual needs.
 "It's not what happens to us, but how we relate to it that makes the difference."
Even though I have a background in psychotherapy, I found that it was not giving women the skills, tools, and mindset shifts they needed to be happy, peaceful, and fulfilled. They were able to have a container to spill their current problems but they were not learning the life skills and proper mindset to handle it all.
I have helped thousands of women move forward with direct coaching to help them right now, instead of enduring years of psychotherapy and diving into the past. So, if you are still stuck after trying many different approaches, want to move forward quickly, learn what it takes to become empowered and resilient, and have fulfilling relationships set up a call with me.
What people are saying about working with Jodi
"I feel like Jodi has given me a cherished toolbox allowing me to experience & cope with different issues in a whole new way. I look forward to each session knowing that I will come away feeling empowered by the meditations, contents & conversations of Jodi & the group!"
— Jessie B., Bedford, NY
"When can we set up another appointment? My friend Jen loves you- you changed her life."

— Sam B., Brewster, NY
"I just wanted to let you know that your meditation videos are the only ones that have actually helped me. I have tried many others and have never been able to be present and focus as I do with yours. I am able to completely focus and feel refreshed every time I do them. Thank you so much."

— Laurie., Irvington, NY
"Working with Jodi post-divorce changed my life!  Her laser focus, to quickly and clearly figure things out, was remarkable.  I have worked with other therapists for years and Jodi has an uncanny ability  to re-frame and refocus the issues that no one else was able to accomplish in so short a time frame.  If you are willing to do the work with her, it is amazing what is achievable!"
- Robin K, Chappaqua, NY.
"I have been in therapy for years, but in such a short time Jodi has been able to go deeper and teach me practical ways of coping that actually work.
I so appreciate our sessions- truly."

- Meryl R., Armonk, NY.
"I started working with Jodi when I felt like a hot mess.  I was having lots of difficulty managing stress (work, family, relationships) in a healthy way and was fearful of upcoming changes in my life (kids going off to college). Working with Jodi was the spark that initiated an intense period of growth, healing, and learning in mid-life.  I feel a bit like Dorothy from The Wizard of Oz walking out of the black and white frame and into a world of Technicolor."
Jen M. - Pleasantville, NY
"I felt like I was drowning, frustrated and overwhelmed and didn't have the tools to handle my life and all the pressures. I am still on the road, but now I can see how it is manageable and can be done. Had I not seen Jodi, I would have been on a downward spiral, and not be the mom and wife I wanted to be. My family life is way more peaceful, and I see my challenges in a different light."
- Alexis R., Katonah, NY.
"So I'm in Greece on a lounge chair thinking about you! Thinking about how you broke my walls down and learning little by little how to trust! Thinking about all the amazing people I met through you and the groups. I can't thank you enough. "
- Shari B., Mt. Kisco, NY.
"I feel a load off my shoulders. Thank you! I wanted to end the call with "I love you" which I do but thought it'd be weird. But I do. I can't even imagine my life without you. "
- Karen C., Armonk
Meet Jodi Baretz, LCSW, CHHC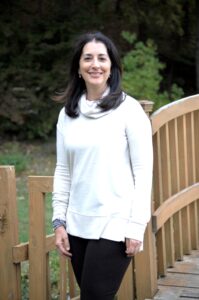 Jodi Baretz, LCSW, is a psychotherapist, best-selling author, and coach helping women become empowered and emotionally resilient. She has a mindfulness-based approach that helps women minimize stress and maximize joy, specializing in relationships and mid-life transitions. Jodi has more than two decades of experience providing clinical services, psychotherapy, and nutritional counseling. Her warm and tell-it-like it is approach makes her clients feel like they are talking to their best friend. Jodi is the author of the best-selling book, "Mindful Is the New Skinny" and was featured on and contributes to media outlets such as Thrive Global and Huffington Post, and has been a guest on health and wellness podcasts, such as Thrive LOUD and Resiliency Ninja. Additionally, Jodi has consulted for "
Maximize Your Talent,"
a company that runs emotional IQ training for corporations, and currently is a coach and consultant for
Wisdom Feed
, an online membership site for mindfulness content, where she has been featured in meditation challenges with Jon Kabat-Zinn and other world-renowned experts. She completed her MSW from Columbia University, Health Coaching certification from the Institute for Integrative Nutrition, and has extensive training in Mindfulness-Based Stress Reduction.